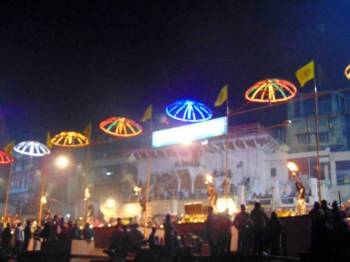 The bylanes of Varanasi are just as famous as its temples. Celebrated in mainstream songs, Varanasi is a city of winding alleys with bustling markets, each specialising in something. Fabrics, metalware, milk products, snacks, sweetmeats, handicrafts, wedding decorations, temple paraphranelia, bangles – Varanasi has it all. The bazaars are at their colourful best in the evening and best explored on foot and by cycle-rickshaw. The best way to end an evening in Varanasi is at Dasashwamedh Ghat, where you can watch priests perform the evening prayer to the Ganges.
How the tour works:
This tour starts at the Town Hall (Maidagin). From here, we walk through a colourful fabric and saree market to visit a Goshala (a charitable sanctuary for stray cows). At the goshala, you can understand more about the "sacred cow" and see how Varanasi's bovine inhabitants are cared for. From the Goshala, we will take a cycle-rickshaw ride through the main market thoroughfare of the city to reach Chowk.
From Chowk, we walk again, covering the following:
The wedding market (Kinari Bazaar)
Kachori Galli (lane of kachoris, these are deep-fried snacks very popular in Varanasi)
Khoa Galli (this lane sells milk products including paneer and condensed, sweetened milk)
Vishwanath Galli (the most famous of all lanes in Varanasi)
From Vishwanath Galli, we emerge at Dasashwamedh ghat, where you can view the evening Ganga arati. We will help you find rickshaws or your car at the end of the arati.
It is possible to take a boat ride and view the arati from the river. Please let the guide know if you would like to do this. You can view the cityscape and the burning ghats at night from the river. You can pay the boatman directly for the cost of the boat ride.