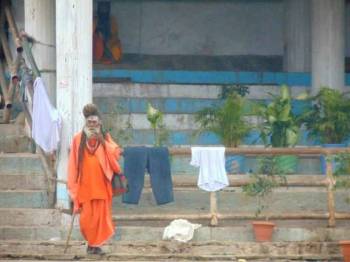 This is a walk through the waterfront, from Asi Ghat to Dashashwamedh Ghat.
It constitutes one half of the famous Panchatirthi pilgrimage, the visit to the five sacred fords. Although on this tour we are not going to do the prayers or ritual baths that are part of the pilgrimage, you will be able to see pilgrims participating in it.
How the tour works:
The walk starts at Asi Ghat, the southern end of the city where the Asi river meets the Ganges. Pilgrims bathe in the ghats here to start their Panchatirthi pilgrimage. On the banks of the ghat, they pray to an open-air linga, the representation of the God Shiva.
From Asi Ghat, we will walk downriver. We will pass Tulsi Ghat (named after a great poet-saint), where the offices of the non-profit Sankat Mochan are located. They have been working on efforts to clean the Ganges river.
Next we will pass the ashram of Anandamayi Ma and the 17th century palace of Maharaja Chet Singh, to reach Hanuman Ghat. The Hanuman Ghat area is home to a substantial South Indian community, and you can see them offering morning prayers at the ghat. This ghat is famous for its Hanuman (Monkey God) Temple and the temple of Ruru (The Dog) Bhairava. Your guide will tell you the stories of these deities.
The next ghat is Harishchandra Ghat, one of the two burning ghats of Varanasi. People in this part of the city believe this is the oldest ghat, surpassing Manikarnika in its sanctity.
Here you can see the performances of ritual rites for the dead.
Continuing downriver, we come to Kedara Ghat, a busy ghat that is the sacred focus of the Kedara Khanda of the city. Further down is Chauki Ghat, where you can climb up to the top of the steps if you would like to see a huge tree with shrines to the Nagas, the serpent dieties.
We will then pass through a quieter section, where the dhobis (washermen) wash and lay out clothes. This part of the city is the Bengali Tola, settled by people from Bengal.
There are more ghats here, Mansarovar, Narada, Amareshwara and Chaunsathi Ghat. Each of these is named for specific dieties, and the guide will tell you the associated legends.
Finally we will reach the Dashashwamedha Ghat, where the walk ends at the temple of the popular goddess Shitala Devi, who cures ailments and pox.